Biography
Karen McGill has specialised in employment law since qualifying as a solicitor. Whilst in private practice she represented clients before employment tribunals and the Employment Appeal Tribunal in Scotland, England and Wales and managed a team of employment lawyers as a partner and Head of the Employment Law Group in a large commercial law firm. She also has extensive experience of business transfers, TUPE, mergers and acquisitions.

Her focus is now on sharing her years of experience and aiding businesses to comply with current legislation, avoid unnecessary risks and educate and empower their workforce. As well as delivering training to HR professionals, business leaders, frontline managers and charity trustees, Karen teaches part-time at the University of Edinburgh in the Law Faculty and Business School.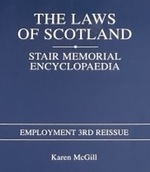 For 15 years Karen was accredited by the Law Society of Scotland as a specialist in Employment Law and contributed the Employment Law Reissues to the Stair Memorial Encyclopedia in 2015 and 2021.
Testimonials
Karen has received consistently excellent feedback for her training courses.
"For over ten years now, Karen McGill has been a mainstay of the teaching provision of Employment Law, Labour Law, European Labour Law and Discrimination Law at the University of Edinburgh's Law School. Such is the high esteem in which the University holds Karen, that the Business School appointed Karen around 6 years ago to be the driving force behind the teaching of their Employment Law and Managing Employment Law courses at both Undergraduate and Postgraduate level.

It is no exaggeration to say that without Karen on board, many of the Employment Law and Discrimination Law courses that the Law School and Business School run could not be offered to our students. That is the measure of how indispensable Karen is to the teaching and learning of Employment Law in Edinburgh Law School and Edinburgh University's Business School.

Karen is a consummate professional, who is extremely well-organised, unflappable and unstintingly well-prepared. Her students regularly praise her teaching style, patience and depth of knowledge. I cannot recommend Karen more highly for her professionalism, encyclopaedic knowledge of Employment Law and wisdom."
"The small group meant Karen tailored it to the participants' needs. It was one of the best training events I have ever attended."
"The content of the course was extremely interesting. Gaining an insight into law from a business perspective was challenging but eye opening and the way the course was structured meant the topic was easily understood."
"Employment Law is not a subject you would think would be remotely interesting. But Karen is such an amazing teacher and truly cares about her students and makes the subject matter interesting and engaging."